Civil and Military Marine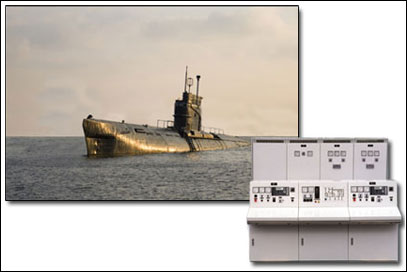 2H energy has a wide experience for in following applications:
Navy Boats,
Traditional or nuclear submarines.
Merchant navy:
2H ENERGY can supply:
On-board gensets,
Electrical distribution boards,
Safety electrical boards,
Batteries racks for submarines,
Monitoring and control racks,
Programmable Logic Controller for energy management.
Thanks to its capability to design and to its means of production (particularly metal sheet and cabling),
2H ENERGY produces equipments complying with the specific standards for Navy (BV, LRS,…).
The main necessary requirements for designing these equipments are:
Limited available space,
High short circuit currents,
Shock resistance,
Vibrations resistance,
Earthquake resistance,
…